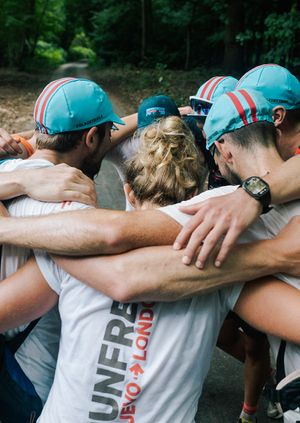 TRIBE x Raise Your Hands: Run & Roast
10th Jun 2018 8:50am - 4:30pm
at London Paddington Station
Add to Calendar
2018-06-10 08:50:00
2018-06-10 16:30:00
Europe/London
TRIBE x Raise Your Hands: Run & Roast
Join Team TRIBE and Raise Your Hands, for a not-for-profit Sunday morning Thames Path 10km run followed by a delicious (and well-earned!) Sunday lunch.Both the Tribe Freedom Foundation and Raise Your Hands are about using the power of community as a force for good. We'll come together and (hopefully) enjoy the sunshine as we run alongside a beautiful section of the Thames path, finishing with an excellent Sunday lunch by the Thames. All in the name of improving the lives of others!Funds raised from the event will be split between the TRIBE Freedom Foundation and Raise Your Hands, the champions of children's charities.The TRIBE Freedom Foundation was established in 2017 to fight modern slavery and end human trafficking in the UK. We were originally inspired by Run for Love, a 1000 mile run across Europe, to raise money to fight human trafficking in 2013. With community at the heart of our existence, we work partnership with people and organisations to raise awareness and fight modern slavery together. Raise Your Hands supports exceptional small charities that improve the lives of children across the UK. These charities struggle unnecessarily for funding because they don't have big marketing budgets or a wide support network. Raise Your Hands is a community of individuals that support these charities so they can do more of what they do best: helping disadvantaged and dejected children across the UK. THE ITINERARY & COSTSTICKETS: £10N.B. Ticket price not inclusive of trains. Please book yourself on the Trainline - see train times below.Travel (Sunday 10th June)8:50 am: Meet at Upper Crust in Paddington Station9:12 am: Train from London Paddington -> Cholsey10:41 am: Arrive at Cholsey10:50 am: Run begins (Cholsey  -> Pangbourne - approx 8 miles) 12:15 pm: Lunch in Pangbourne at The Swan15:05 pm: Train from Cholsey -> London Paddington (Book a return ticket from London to Cholsey - although we will be boarding the 3.14 pm train from Pangbourne).16:28 pm: Arrive London PaddingtonTicket includes: - Donation to the TRIBE Freedom Foundation and Raise Your Hands- Unlimited TRIBE snacksTicket excludes:- Return train tickets- Lunch at The SwanFAQs:DO I NEED TO BOOK MY OWN TRAIN TICKETS?Yes. Please book trains listed in the itinerary.WILL IT BE A GUIDED RUN?Yes. It will be guided run lead by Mills from UsTwo and the TRIBE Team.WHAT KIT DO I NEED TO BRING?Here are some ideas:- A spare t shirt- Hat- Waterproof Jacket- Sun Cream- Water Bottle- Small Backpack to carry your belongings - Warm Layers (even though it's June)- Extra TRIBE bars!- Credit Card/CashAM I FIT ENOUGH?This will be a relatively easy jog, so the run is suitable for all fitness levels.WILL MY BAG BE TRANSPORTED FROM START TO FINISH?No. You will need to carry a small backpack with all your belongings for the run.ARE REFRESHMENTS PROVIDED?Please bring a water bottle that you can fill up along the route. There will be a water break and TRIBE bars (provided by TRIBE).WHAT IF I NEED TO CANCEL MY TICKET?No refunds are available, unfortunately. https://wearetribe.eventcube.io/events/10598/tribe-x-raise-your-hands-run-roast
Praed St, Paddington, London, W2 1HQ
Event Details
Join Team TRIBE and Raise Your Hands, for a not-for-profit Sunday morning Thames Path 10km run followed by a delicious (and well-earned!) Sunday lunch.

Both the Tribe Freedom Foundation and Raise Your Hands are about using the power of community as a force for good. We'll come together and (hopefully) enjoy the sunshine as we run alongside a beautiful section of the Thames path, finishing with an excellent Sunday lunch by the Thames. All in the name of improving the lives of others!
Funds raised from the event will be split between the TRIBE Freedom Foundation and Raise Your Hands, the champions of children's charities.
The TRIBE Freedom Foundation was established in 2017 to fight modern slavery and end human trafficking in the UK. We were originally inspired by Run for Love, a 1000 mile run across Europe, to raise money to fight human trafficking in 2013. With community at the heart of our existence, we work partnership with people and organisations to raise awareness and fight modern slavery together.
Raise Your Hands supports exceptional small charities that improve the lives of children across the UK. These charities struggle unnecessarily for funding because they don't have big marketing budgets or a wide support network. Raise Your Hands is a community of individuals that support these charities so they can do more of what they do best: helping disadvantaged and dejected children across the UK.
THE ITINERARY & COSTS
TICKETS: £10
N.B. Ticket price not inclusive of trains. Please book yourself on the Trainline - see train times below.

Travel (Sunday 10th June)
8:50 am: Meet at Upper Crust in Paddington Station
9:12 am: Train from London Paddington -> Cholsey
10:41 am: Arrive at Cholsey
10:50 am: Run begins (Cholsey -> Pangbourne - approx 8 miles)
12:15 pm: Lunch in Pangbourne at The Swan

15:05 pm: Train from Cholsey -> London Paddington (Book a return ticket from London to Cholsey - although we will be boarding the 3.14 pm train from Pangbourne).
16:28 pm: Arrive London Paddington
Ticket includes:
- Donation to the TRIBE Freedom Foundation and Raise Your Hands
- Unlimited TRIBE snacks
Ticket excludes:
- Return train tickets
- Lunch at The Swan
FAQs:

DO I NEED TO BOOK MY OWN TRAIN TICKETS?
Yes. Please book trains listed in the itinerary.
WILL IT BE A GUIDED RUN?
Yes. It will be guided run lead by Mills from UsTwo and the TRIBE Team.
WHAT KIT DO I NEED TO BRING?
Here are some ideas:
- A spare t shirt
- Hat
- Waterproof Jacket
- Sun Cream
- Water Bottle
- Small Backpack to carry your belongings
- Warm Layers (even though it's June)
- Extra TRIBE bars!
- Credit Card/Cash
AM I FIT ENOUGH?
This will be a relatively easy jog, so the run is suitable for all fitness levels.
WILL MY BAG BE TRANSPORTED FROM START TO FINISH?
No. You will need to carry a small backpack with all your belongings for the run.
ARE REFRESHMENTS PROVIDED?
Please bring a water bottle that you can fill up along the route. There will be a water break and TRIBE bars (provided by TRIBE).
WHAT IF I NEED TO CANCEL MY TICKET?
No refunds are available, unfortunately.