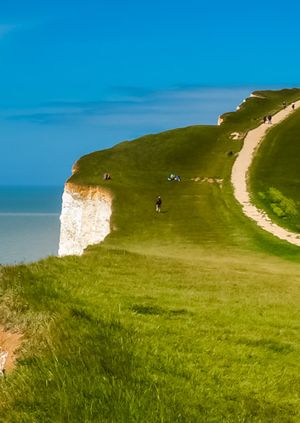 TRIBE Ultra: Lewes to Eastbourne
3rd Jul 2021 8:45am - 3pm
Add to Calendar
2021-07-03 08:45:00
2021-07-03 15:00:00
Europe/London
TRIBE Ultra: Lewes to Eastbourne
Join the TRIBE team for the first training run for TRIBE Run for Love 4 (triberunforlove.com). We go further and faster, together.We will follow a stunning route along the South Downs Way via the famous Seven Sisters white cliffs. It's an easy day trip from London on the train and there will be an easy pace to ease everyone in!ITINERARY:07:54 - Meet the TRIBE crew at Victoria Station to get the train09:15 - ~ 25 miles from Lewes to Eastbourne14:00 - Pub lunch in Eastbourne16:06 - Train Eastbourne to LondonPlease note that this is a fully self-supported run, and you will need to carry everything with you for the day.We will be running mainly on trails, and the pace will be approximately 10-11 min/mile (it's undulating!). We will try and run as a pack. However, we expect everyone will naturally be at different speeds so we will re-group every 6 - 8 miles.Tickets: £5 Donation to TRIBE Freedom Foundation.Any questions just drop us an email: Tom@wearetribe.co // Laragh@wearetribe.coLet's Do This! https://wearetribe.eventcube.io/events/30762/tribe-ultra-lewes-to-eastbourne
Station Rd,, Lewes, BN7 2UP
Event Details
Join the TRIBE team for the first training run for TRIBE Run for Love 4 (triberunforlove.com). We go further and faster, together.
We will follow a stunning route along the South Downs Way via the famous Seven Sisters white cliffs. It's an easy day trip from London on the train and there will be an easy pace to ease everyone in!
ITINERARY:
07:54 - Meet the TRIBE crew at Victoria Station to get the train
09:15 - ~ 25 miles from Lewes to Eastbourne
14:00 - Pub lunch in Eastbourne
16:06 - Train Eastbourne to London
Please note that this is a fully self-supported run, and you will need to carry everything with you for the day.
We will be running mainly on trails, and the pace will be approximately 10-11 min/mile (it's undulating!). We will try and run as a pack. However, we expect everyone will naturally be at different speeds so we will re-group every 6 - 8 miles.
Tickets: £5 Donation to TRIBE Freedom Foundation.
Any questions just drop us an email: Tom@wearetribe.co // Laragh@wearetribe.co
Let's Do This!