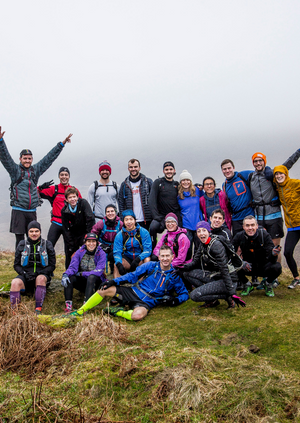 TRIBE Ultra: Lake District Weekend
25th Sep 2021 6:30am - 5:30pm
Add to Calendar
2021-09-25 06:30:00
2021-09-25 17:30:00
Europe/London
TRIBE Ultra: Lake District Weekend
In 2013, TRIBE Co-Founders Tom, Guy and Rob completed the first Run for Love – a 1,000 mile run across Europe, from Odessa to Dubrovnik, to set up the first home for trafficked children in the UK. This was the journey that inspired TRIBE.In May 2022, we're bringing the tribe together for the fourth instalment of the epic Run for Love series; 260 km along the Croatian Coast. Together, we will push the limits of human endurance and run to fight modern slavery.Join us for one of our epic ultra training weekends, in the lead up to the challenge! This is open to anyone, whether you're signed up for Run For Love 4 or not.For this ultra we are heading to the Lakes for a proper adventure with stunning trails, and decent hills: the perfect Run for Love training ground! The pace will be social and we will run together as one crew (stopping midway for lunch).ITINERARY:Saturday06:06 - Train from London Euston -> Oxenholme Lake District09:15 - 27 miles from Oxenholme -> Ambleside12:00 - Mid-way stop with drinks and TRIBE Nutrition15:00 - Lunch in Ambleside16:00 - 22:00 - Chill, Drinks & Supper @ YHA AmblesideSunday8.30am: Breakfast9.30am: 13 miles -> Lakes and Mountain Loop12.30pm: Lunch in Ambleside1:30pm: Taxi to Oxenholme2.23pm: Train from Oxenholme -> London (arriving 5.11pm)Costs:Hotel: £55 (includes Saturday Supper + Sunday Breakfast). There is limited availability at the YHA so please book ASAP so that you don't miss out! Train (please note this is not included): Off Peak Return = £73.90 with a railcard. Please do book as soon as possible as prices will only go up from now.Please ensure you bring ID to check in to the accommodation.Exciting times - it's going to be an epic weekend and we can't wait to run together! https://wearetribe.eventcube.io/events/32399/tribe-ultra-lake-district-weekend
Ullswater Road, Cumbria, Penrith, CA11 7JQ
Event Details
In 2013, TRIBE Co-Founders Tom, Guy and Rob completed the first Run for Love – a 1,000 mile run across Europe, from Odessa to Dubrovnik, to set up the first home for trafficked children in the UK. This was the journey that inspired TRIBE.
In May 2022, we're bringing the tribe together for the fourth instalment of the epic Run for Love series; 260 km along the Croatian Coast. Together, we will push the limits of human endurance and run to fight modern slavery.
Join us for one of our epic ultra training weekends, in the lead up to the challenge! This is open to anyone, whether you're signed up for Run For Love 4 or not.
For this ultra we are heading to the Lakes for a proper adventure with stunning trails, and decent hills: the perfect Run for Love training ground! The pace will be social and we will run together as one crew (stopping midway for lunch).
ITINERARY:
Saturday
06:06 - Train from London Euston -> Oxenholme Lake District
09:15 - 27 miles from Oxenholme -> Ambleside
12:00 - Mid-way stop with drinks and TRIBE Nutrition
15:00 - Lunch in Ambleside
16:00 - 22:00 - Chill, Drinks & Supper @ YHA Ambleside
Sunday
8.30am: Breakfast
9.30am: 13 miles -> Lakes and Mountain Loop
12.30pm: Lunch in Ambleside
1:30pm: Taxi to Oxenholme
2.23pm: Train from Oxenholme -> London (arriving 5.11pm)
Costs:
Hotel: £55 (includes Saturday Supper + Sunday Breakfast). There is limited availability at the YHA so please book ASAP so that you don't miss out!
Train (please note this is not included): Off Peak Return = £73.90 with a railcard. Please do book as soon as possible as prices will only go up from now.
Please ensure you bring ID to check in to the accommodation.
Exciting times - it's going to be an epic weekend and we can't wait to run together!