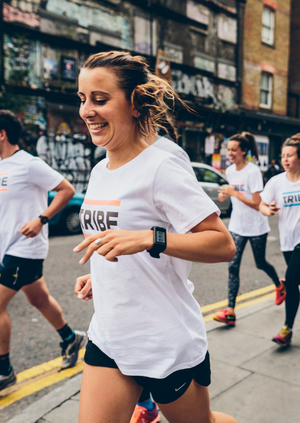 TRIBE Sunset Series: 6km River Run
21st Sep 2021 6:40pm - 7:30pm
Add to Calendar
2021-09-21 18:40:00
2021-09-21 19:30:00
Europe/London
TRIBE Sunset Series: 6km River Run
Join us on Tuesday 21st September for a social river run with the TRIBE team and Running Coach James Campbell!Each month, we'll be exploring a new route from TRIBE HQ, bringing the community together for a gentle 6 km river run and optional S+C exercises along the route!As always, all abilities are welcome! At TRIBE, we are all about training as a team and supporting each other to be the very best version of ourselves. We go further and faster, together!DETAILS6:40 pm: Meet the TRIBE team + James at TRIBE HQ in our new office at The Leather Market (due to COVID-19 we won't be operating a bag drop and will be meeting outside to maximise social distancing)6:45 pm: James will lead a 6-7km run around London Bridge + some strength work along route. We will stick together as a pack with backmarkers from TRIBE.7:35 pm: Cool down + stretches on the route back to base.7:40 pm -> Refuel at TRIBE HQ with TRIBE Protein Bars // TRIBE Triple Deckers (the best natural performance nutrition there is)!TICKETS£5 including TRIBE Nutrition (100% of proceeds will go to the TRIBE Freedom Foundation, to help fight modern slavery). https://wearetribe.eventcube.io/events/34819/tribe-sunset-series-6km-river-run
Weston St, London, SE1 3ER
Event Details
Join us on Tuesday 21st September for a social river run with the TRIBE team and Running Coach James Campbell!
Each month, we'll be exploring a new route from TRIBE HQ, bringing the community together for a gentle 6 km river run and optional S+C exercises along the route!
As always, all abilities are welcome! At TRIBE, we are all about training as a team and supporting each other to be the very best version of ourselves. We go further and faster, together!
DETAILS
6:40 pm: Meet the TRIBE team + James at TRIBE HQ in our new office at The Leather Market (due to COVID-19 we won't be operating a bag drop and will be meeting outside to maximise social distancing)
6:45 pm: James will lead a 6-7km run around London Bridge + some strength work along route. We will stick together as a pack with backmarkers from TRIBE.
7:35 pm: Cool down + stretches on the route back to base.
7:40 pm -> Refuel at TRIBE HQ with TRIBE Protein Bars // TRIBE Triple Deckers (the best natural performance nutrition there is)!
TICKETS
£5 including TRIBE Nutrition (100% of proceeds will go to the TRIBE Freedom Foundation, to help fight modern slavery).