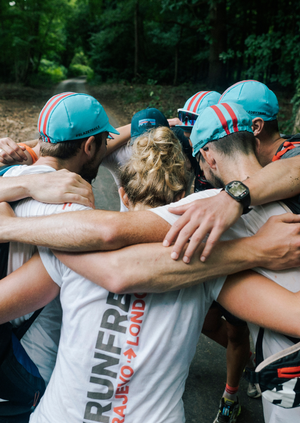 TRIBE Year of Adventure | Team Elevation Challenge
10th Feb 2023 7am - 9am
Add to Calendar
Event Details
Are you up for a sunrise adventure? We believe life-changing challenges define us all. So we're challenging you to make 2023 a year of ADVENTURE and push the limits of human endurance to fight modern slavery and end human trafficking.
Join us on Friday 10th February for an epic team elevation challenge to ramp up your hill-training and be in with a chance to win a free entry (worth £1,200) to our biggest adventure this year; TRIBE Run for Love 5 in Sweden. 
THE CHALLENGE: 
Regarded as one of the toughest climbs in London, Swain's Lane is short, punchy, and very steep. The Strava segment is 0.9km and the gradient peaks at 20%. Sign up in teams of 2 - 3, or enter as a pool runner (and we'll join you with other TRIBE runners). Teams will have 60 minutes to cover as much vert as they can running / walking before the alarm rings and it's time to refuel with a post-run breakfast. 
TRIBE Run for Love 5 will involve more than 6,800m of elevation (running the height of the Shard more than 20x times) so it's time for the team to find some hills to train on. Whether you're joining us for Run for Love, training for an upcoming spring marathon or simply like the idea of a morning challenge - this is the perfect way to clock in some hill reps before breakfast and kick start your Friday. Expect some epic ascents, rewarding descents and a plentiful supply of TRIBE nutrition!
Prizes will be up for grabs for the fastest teams, best photos and bonus challenges! All runners who complete the Team Elevation Challenge will be in with a chance to win a free entry to TRIBE Run for Love!* 
TIMING & DETAILS 
7:00 am - Meet at Swain's Lane (outside Roni's - 2 Swain's Lane, London, N6 6AG) 
7:15 am - The challenge commences and the climbing begins…
8:15 am - TIME IS UP (and it's time for breakfast) 
8:20 am - Join the TRIBE team for a post-run brekkie at Gail's 
We can't wait to see you there! 
For a taste of Swain's Lane and what to expect, watch this:https://www.youtube.com/watch?v=SO13mAHa4Tw
TICKETS
£2 donation to the TRIBE Freedom Foundation (100% proceeds will go to the Foundation). We will push the limits of human endurance to fight human trafficking and modern slavery. We will go further and faster, together, in 2023.
*One winner will be selected at random from the registered finishers who complete the TRIBE Team Elevation Challenge. If you have already entered TRIBE Run for Love 5, you can opt to donate or refund your entry if you are selected!