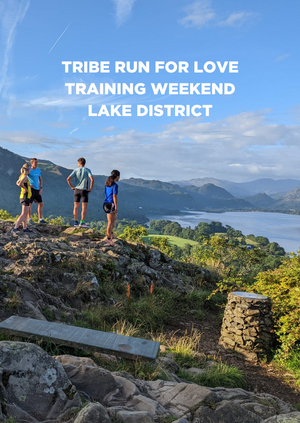 TRIBE Run For Love Training Weekend | Lake District
14th - 16th Jul 2023
Add to Calendar
Event Details
In 2013, TRIBE Co-Founders (Tom, Guy and Rob) completed the first Run for Love – a 1,000 mile run across Europe, from Odessa to Dubrovnik, to set up the first home for trafficked children in the UK. This was the journey that inspired TRIBE.
In September 2023, we're bringing the tribe together for the fifth edition of the epic Run for Love series; 225 km along the Swedish High Coast. Together, we will push the limits of human endurance and run to fight modern slavery. Join us for our last epic ultra training weekend in the lead up to the challenge! This is open to anyone, whether you're signed up for Run For Love 5 or not. 
We're heading to Keswick with H2 Coaching for fantastic trail running in spectacular scenery, hearty meals and time well spent with friends old and new. The weekend will be a perfect opportunity to meet your fellow Run for Love runners and get in some training over mountainous terrain in preparation for September's challenge! 
ITINERARY
Friday 14 July 2023: 
- Arrive at the LakeSide House, Keswick
Transfers arranged from Penrith railway station to LakeSide House, Keswick.
For those travelling from London by train, we suggest the direct train leaving at 13:30 from Euston, arriving in Penrith (North Lakes) at 16:31. Or, make your own way to 40 Lake Road, Keswick, CA12 5DQ in time for the first evening run.
- 18:30 Easy paced, 40-minute group run along the lake shore on tarmac and hard-packed trails. 
- 20:00 Group dinner at LakeSide House. 

Saturday 15 July 2023: 
- 7:30 Breakfast. Kit check, questions and route briefing.
- 9:00 Set off for a day on the fells! We're taking on legs 1 & 2 (of 5) of the Bob Graham Round, which will be up to 44km/3400m elevation (but short & medium routes are also available). There will lots of support and opportunities for Q&A from experienced Run for Love runners. 
- 18:30 Group dinner at LakeSide House. 
Sunday 16 July 2023: 
- 8:00 Breakfast. Kit check questions and route briefing.
- 9:30 Set off for our second day on the fells! We'll be climbing to Walla Crag with its spectacular view over the lake, before continuing in a clockwise lap of Derwentwater. The route will be approx. 18-26km (and shorter routes are available). 
- 15:00 Transport back to Penrith Station
A full breakdown of the weekend iterinerary including proposed running routes and transfer information can be accessed here. There is limited availability at the Lakeside House so please ensure you book early to avoid missing out!
The closest station is Penrith. If traveling from London, direct trains run from Euston and take approximately 3 hours 15 minutes.

COSTS
£199 per person (sharing in a double or twin room). The price is inclusive of the following: 
- 2 nights' (Friday & Saturday) accommodation on a DBB basis;  
- Transfers to/from Keswick Guest House to Penrith railway station;
- Planned & guided runs with Strava/GPX routes available;
- Welcome drink; and 
- Group dinner each evening including a celebratory meal on Saturday night.