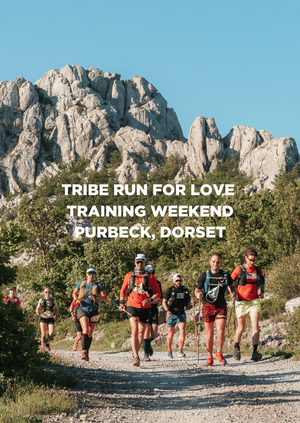 TRIBE Run For Love Training Weekend | Purbeck, Dorset
14th - 16th Apr 2023
Add to Calendar
Event Details
In 2013, TRIBE co-founders completed the first Run for Love – a 1,000 mile run across Europe, from Odessa to Dubrovnik, to set up the first home for trafficked children in the UK. This was the journey that inspired TRIBE.

In September 2023, we're bringing the tribe together for the fifth edition of the epic Run for Love series; 225 km along the Swedish High Coast. Together, we will push the limits of human endurance and run to fight modern slavery. Join us for the first of our epic ultra training weekends in the lead up to the challenge! The weekend will be a perfect opportunity to meet like-minded adventurers and enjoy a couple of days exploring stunning coastal trails in Dorset, practicing essential navigation skills & preparing for September! 
The training sessions & distances are tailored to those running TRIBE Run For Love 5 this year but the weekend is open to all trail runners and everyday adventurers. 
TIMINGS & DETAILS
Friday 14 April 2023
Arrive at YHA Swanage on Friday evening & meet the TRIBE team before heading out for welcome drinks.  
If traveling from London, there are direct trains that run from Waterloo to Wareham which take approx. 3 hours and 15 minutes. The TRIBE team will be getting the 5.35pm train from London Waterloo to Wareham. The YHA Swanage is then a short taxi / bus ride away. We will circulate further information about the training weekend in the lead up to the event. 
Saturday (15 April 2023)
- Breakfast at YHA Swanage
- 40km group run (including midway stop with drinks & TRIBE nutrition). The emphasis on this run will be navigation and trail running skills, and shorter distances will be offered (10-20km) if you're not up to running the full distance. There will lots of support and opportunities for Q&A from experienced Run for Love runners. 
- Enjoy some downtime & recovery in Swanage before a 7pm team dinner at a local pub (The Anchor Inn) 
Sunday (16 April 2023)
- Breakfast at YHA Swanage
- 21km guided run (including a midway stop with drinks and TRIBE nutrition). There will also be a shorter 10km route option for those who are not up for the longer distance. 
- The TRIBE team will be getting the train from Wareham (Dorset) to London Waterloo at 14:20pm. 
COSTS: 
£99 (including two nights' accommodation and 2x breakfasts at the YHA Swanage). There is limited availability so please book ASAP to ensure that you don't miss out! 
Please note that transport costs, lunches and dinners are not included in the above price. We suggest you book trains as soon as possible before prices start to rise. 
We can't wait to kick off our training for TRIBE Run For Love 5 with an incredible weekend on the trails and look forward to meeting you all!